Thanks to Mickey Mart's "How to Draw Comics" program, young artists are trying their hand at illustrated storytelling. It's an art form as old as civilization itself!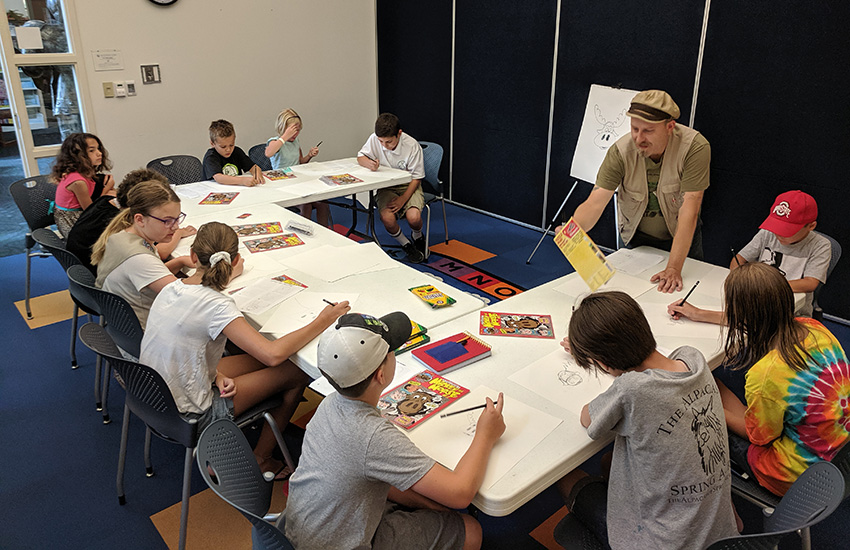 Telling stories with pictures is a dynamic way to engage readers and an important tool in any kid's communication toolbox. Comic Books are one way this ancient skill has helped to define the Modern Era!
Libraries across Ohio have rave reviews for the Mickey Mart "How to Draw Comics" programs. The classes are just one part of Mickey Mart's "Fuels Schools" Education Initiative.
Thank you so much for your time spent with our teens at the library yesterday. They were very engaged and appreciated you both being here. We hope you can come back soon!
What is Mickey Mart's "How to Draw Comics" Program?
Mickey Mart's "How to Draw Comics" Program is actually two separate classes. There is a Character Drawing track for ages 8-12 and a Comic Creation track for ages 12-17. Both programs are popular and several libraries have hosted both.
Mickey Mart places great importance on being a valuable member of every community they serve. That's why they always look to do something special for kids! As part of this commitment, Mickey Mart underwrites the costs for all the classes, allowing libraries to offer the program absolutely Free of Charge to any interested student.
The classes were developed and are taught by the creators of the Mickey the Moose Adventure Comics. The comics detail the fictional adventure of Mickey Mart's very real mascot. To date, writer Scott Rudge and artist Kelly Walt have published six Mickey the Moose comics including the just-released "Mickey the Moose Puzzle Adventure #1."

"I was 10 years old when I took a class similar to this one. The teacher was David Helton, the creator of the iconic WMMS Buzzard, and that was about as big as you could get then," says Rudge.
"Even though the class only lasted a couple of hours, we learned a few little tricks that could be applied to anything we tried to draw from that point on. It was very valuable to me at the time. With these classes, we try to capture that same value. I still have the drawing I did in those ancient days."
Now Scheduling 2020 Programs!
Mickey Mart is planning 4-6 class dates for 2020 only in Mickey Mart communities. Any library's youth programmer interested in hosting a class can contact Mickey Mart for more information on available dates using our Contact Form.
Mickey Mart is a family-owned Convenience Store and Fuel chain. The Corporate Office is located in Milan, OH. Mickey Mart Stores and affiliated restaurants Taco Bell, Subway and Dunkin' are located across north-central Ohio. The combination of Community Involvement, Distinctive Stores, Customer Service, and Convenience (not to mention, Complete Coolness), fuels their remarkable growth across the Heartland.